Rakugo
Sponsor this project: https://rakugoteam.github.io/donations/
Our new Web page: https://rakugoteam.github.io/

Docs: https://rakugodocs.readthedocs.io

Project Trello Roadmap: https://trello.com/b/sx9eofUy
Inspired by Ren'Py, Rakugo is a project aimed at providing a better toolset for narrative-based games on Godot.
Simplify your project, if it is a visual novel, point and click, RPG,
interactive text game or many other styles and blends of styles.
Here is Project github: https://github.com/rakugoteam/Rakugo
Please considering joining the official team.
If your game uses Rakugo write to me on Discord.

Story driven games
It means games that are for example:
Visual Novels
Click & Point Adventures
RPG
You can use it with:
GDScript
RakuScript early WIP
FAQ:
Q: So it's about adding a refined writing and dialogue system to the engine?
A: Yes, and more - nodes, objects and funcs to make easy to provide mechanics like in point&click and rpgs.

Q: As a scenarist, what would I gain from using Rakugo over Ren'Py or Twine ?
A: It is made as godot addon - you can use all godot features. You can make your game 2d, 2.5d or 3d - you can only 2d in Ren'Py. You can easy add minigames or mix it with other game genre. It will have mechanics for point&click games and rpgs - Ren'Py and Twine are only for vn. This project's dialog functions can do more than Ren'Py's equivalents.

Q: How does the this project interact with the engine ?
A: For now this project is a singleton and a collection of special nodes. There is also gui include in example project that is connected with project and has all functions like in a Ren'Py game.

Q: Is it easy to use ?
A: For now it is not that easy as I want it to be, but I am working to make it use RakuScript (this tool own language).
Other Info
If you want to help please write to us on our Discord.
New emoji mode use
Twemoji.
| | |
| --- | --- |
| Updated | 9 days ago |
| Status | In development |
| Category | Tool |
| Rating | |
| Authors | Jeremi, Title_Pending |
| Genre | Adventure, Role Playing, Visual Novel |
| Made with | Godot, GIMP, Inkscape |
| Tags | godot, Point & Click, rakugo, renpy, Story Rich, Text based, Twine |
| License | MIT License |
| Average session | A few seconds |
| Inputs | Keyboard, Mouse, Touchscreen |
| Links | Homepage, Community, Docs, Roadmap, Patreon, Source code |
Download
Click download now to get access to the following files:
Comments
Log in with itch.io to leave a comment.
I downloaded "The Question" to try it out. But the text doesn't display after a dialogue choice ?
Way godot works it makes that first time it load Rakugo plugin it load it in bad way. So try reopen project. I will look it to that, but it should works. Do you have any error messages ?
I'm using Godot 3.2.3
I reopened the project, the plugin is working.
There is no error message when the game is playing.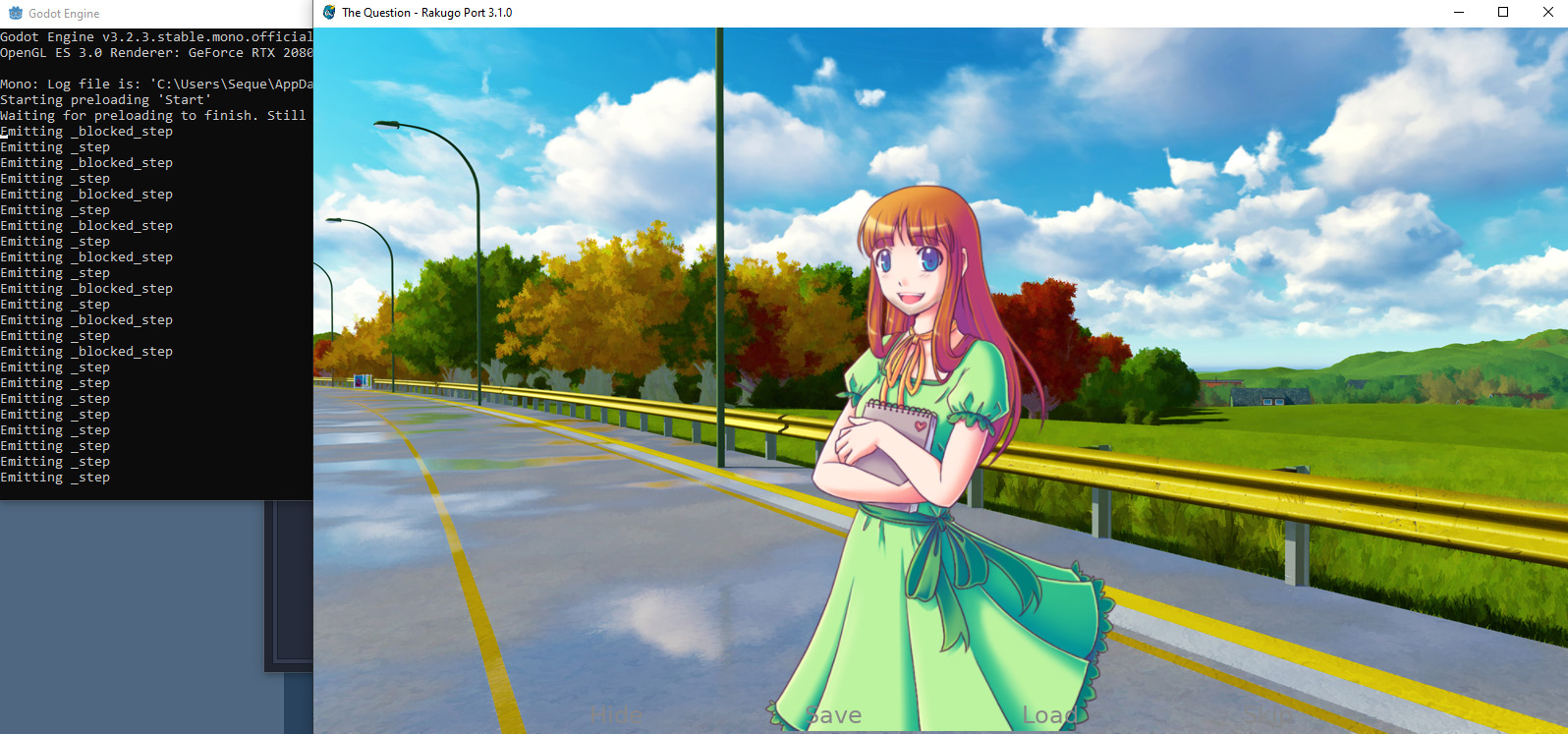 It should work, there is every thing fine with Rakugo it self, probably there is some error in the question it self. I will check it.